Bryan Gold, the UNC Greensboro Bryan School of Business and Economics' app-based career readiness challenge, earned Distinguished Program honors at a student development conference this week.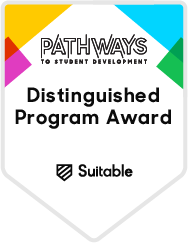 "The Distinguished Program Award recognizes select programs for their expertise in using Suitable to best serve their student population while supporting their mission and vision. We would argue that all of our programs are distinguished but wanted to highlight partners who have gone above and beyond this past year," said Samantha Schwartz, a university success manager at Suitable.
This is not the first time the program has been recognized at Suitable's annual Pathways to Student Development conference — Bryan Gold received a Best Incentive nod at last year's event.
"Bryan Gold continues to show up as a shining example of best practices especially in the realms of branding, social media presence, and incentives," said Schwartz. "This past year, Bryan Gold revamped their competencies and badge offerings to produce even more badge earners, and they continue to lead the charge in highlighting the accomplishments of their students, ensuring that the Bryan Gold program stands out as foundational to students' professional development at UNCG."
Students participate in the challenge each semester. Bryan Gold is personalized to the Bryan School and features customized activities, incentives, badges, and competencies designed to strengthen career skills desired by employers.
"Receiving the Distinguished Program Award shows that Bryan Gold continues to be identified as an international leader in gamified student development programming. We have been intentional about building this career readiness challenge in alignment with the expectations that employers set for young professionals, all while keeping participation fun and engaging. From exclusive networking opportunities to direct internship and job offers, our students can attest to the meaningful real-world outcomes that active participation in Bryan Gold helps them achieve on a personal and professional level. These efforts go hand-in-hand with the Bryan Blueprint Series to ensure that our students are purposefully developing the career competencies they need to make an immediate impact in industry," said Lasse Palomaki, an undergraduate professional development specialist with the Bryan School.
With a new school year just around the corner, the end goal for the Bryan School's career and professional development team remains unchanged — develop students' career competencies desired by employers. And the holistic experience of Bryan Gold provides employers with a visual representation of an individual's accomplishments and proficiencies.
"Through Bryan Gold, students can attend employer-driven career development sessions, develop their portfolio of career documents, and strengthen their brand in front of professional audiences. We will work to make the experience increasingly engaging and innovative in the future, and there is no doubt that our Bryan School students will continue to set the gold standard for young professionals around the country," said Palomaki.